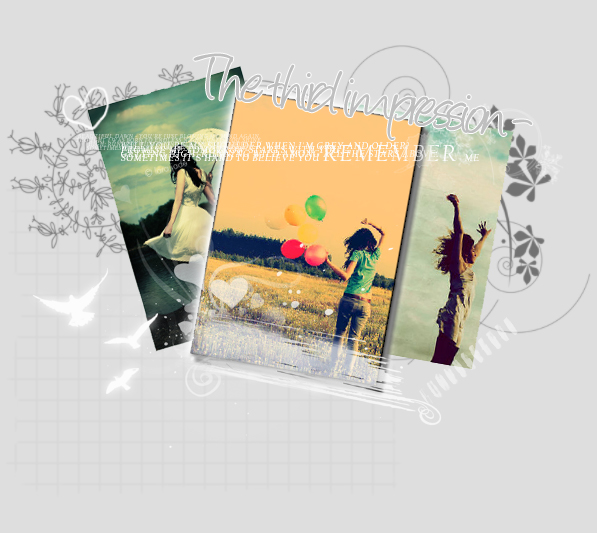 20051028 ♥
Last footprint@6:34 AM
dear diary,
im counting down the days to the end.
hi!jus a quick update b4 i go bathe then go for mrs ong!hahas gonna go there and see amilyn chan and rachel tan!hee it rhymes..hahas im pro at this man..ok well everything's quite ok..jus got back my subject combi for next yr..hahas i shant reveal it here..hee if u wanna noe hafta ask me personally..hahas(:well tmr is the last day of school and also the last day tt 2gr'05 will be united as one..it's so sad..but ya..i hope tt i'll get into a nice class next yr..but i guess i wont be in the sme class as rach and kel and xue..so sad):but at least i got renee!hee it's not so bad afterall..hahas ok oh ya i shall post the artistic photo tt me and kel took on the bus tt day..hahas it's realli funny!kk.. i tink i better go alreadi..if not i'll be late for tuition..byeee ciao
♥ Loved, samantha
20051007 ♥
Last footprint@7:32 AM
dear diary,
im counting down the days to the end.
hi..hahas decided to use a colour tt my sis can see with..hahas so here i am again..hee im so excited! exams officially end at 10 tmr!hahas after tt im like a free bird man..hahas cant wait..hahas it's been like so boring la.. all day long studying.. killing all my brain cells lor..hahas so stressed up tt ive been like slping so much la.hahas(:.. like a pig man..hahas well it's like super funny la..hahas im gg like have a vcd marathon man.hahas like tmr or sumthing..hahas eh rachel! are u still going on mon???hahas super weird la.. but good time for exercising..hahas can lose weight!hahas go get from amilyn chan!(: hee.. well i hope if i upload the pic it looks fine..hahas rene is like super cute la!!!!!ahhh.. hahas she was like eating biscuit on sunday then we took picture..oh my.. she looks so angelic and cute la..ahhhh. feel like pinching her man..hahas jie im not sure whether uve seen this but u'll find her so cute also..hahas.. ok enough bout tt..hahas i feel like slping now..hahas maybe i shld.hee kk byeeeee(:

ps: the picture so cute rite???

♥ Loved, samantha

Blogskin COPYRIGHTED by


WINNIE
All rights reserved. ©

♥ The lady.

Your pretty face(image).
haha currently im lazy to go put a picture here so yeah(:

samantha ♥

sweet sixteen

four perseverance oh seven

band

seven november ninety one

Sites: xoxo ♥

♥ Loves.

4 perseverance ohh seven my partners! my dearest clique of five

♥ Cravings.

I want

freedom from o levels!

I want

to buy loads of things!

I want

everything.

♥ Tagboard.





♥ Affiliates.

ARIES
CHARLOTTE
CLARISSA
CLAIRE
CHLOE
ENLI
ESTELLE
ETHAN
JIAYI
KELLY
KANDACE
NAT
RENEE
SAM
YIYAN
ZHANG




♥ Archive.

♥ August 2005
♥ September 2005
♥ October 2005
♥ November 2005
♥ December 2005
♥ January 2006
♥ March 2006
♥ April 2006
♥ May 2006
♥ June 2006
♥ July 2006
♥ August 2006
♥ September 2006
♥ October 2006
♥ November 2006
♥ August 2007
♥ September 2007
♥ October 2007




♥ Credits.

1 2 3 4 5 6 7 8 9
sweet.pulchritude-



♥ Jukebox.

Imeem
Now playing Song name.
Song by Singer.