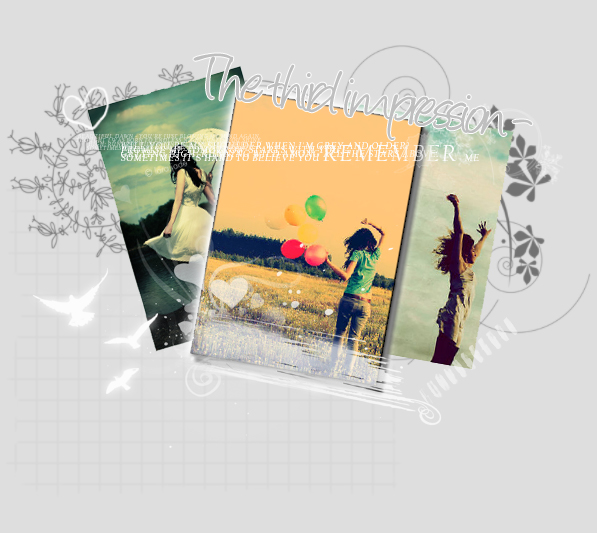 20070927 ♥
Last footprint@8:28 PM
dear diary,
im counting down the days to the end.
i feel like a stupid piece of rubbish






):
♥ Loved, samantha
20070923 ♥
Last footprint@6:21 PM
dear diary,
im counting down the days to the end.
photos from aces day and teachers

day celebration
ohwells im now officially a loner at home cause my sisters are all away in far away islands!my oldest sister left for her mission on friday afternoon.and cause i couldnt send her off at the airport cause of school, morning was like the official last time i could see her and actually talk to her.okay so before i left for school i hugged her for the last time and i broke down so bad.i just cried and cried non stop.i mean it's understandable i'll cry so bad cause i wont be seeing her for like 18 months and that is like 1 and a 1/2 years later!yup while waiting for the lt to be open for checking of physics paper, i was standing there and saying to renee ' how i wish i was at the airport now'.i mean the feeling really sucks when your sister is gonna be gone for so long but you cant be there to send her off at the last min!arghh oh wells prelims suck big time and if they dont moderate, i can just jump down the building right now!oh mans and i dont know why pple younger than us are like complaining like crazy about how they cant take all the stress and exams are killing them.well my advice to them is wait till you come to sec 4 then you'll really know what's stress!i mean like their eoys are only 1 week while ours is like hello almost a month!and theyre already complaining like crazy.oh mans i think im in a really bad mood i dunno why.i kinda hate school now cause it's so dreary and we're supposed to have a study break from the 4th but no!the school just had to schedule extra lessons!how nice a study break man.and when we're busy mugging in school after the 4th, our dear other youngies in the school have all the time in the world to just play their time away cause their exams are over!!and so how can we study in peace when the rest are playing right in front of our eyes?!oh wells this just suck big time and i really take no interest in stuff anymore.all i wanna do after school is just go home and sleep!what kind of a life do i lead man.nvr mind i think exams are killing my brain so yeah i'll just end off with a picture i took during the stress period of studying and i usually dont take this kinda picture so yeah.ciao

(sorry the picture became right at the top)

♥ Loved, samantha

20070917 ♥

Last footprint@4:03 PM

dear diary,

im counting down the days to the end.

yaye!prelims have ended!oh mans it was sucha long and tiring period for me!yup havent updated for a really long time cause the computer kept screwing up on me and i couldnt update.hehe oh yeah i shall relate my horrible experience i had like during the september hols.it was a friday and i went for my chemical peeling appt.so my doc left the acid on my face longer this time and it stung my face so badly i felt like crying!but nonetheless i just bore with it and after everything was over, i went to the mirror to take a look and my face was like red!!soo i thought it was kinda normal to look like tt after the peel then i went walking around orchard with my mum!then my mum suddenly told me ' eh your face looks very bad and ugly now leh!'.soo i was like die!then i went to look into the mirror and i got the biggest shock of my life!my face was becoming worse and redder and some parts could tell it was burnt blood red!soo i sort of dragged my mum back home.then at j8 i was like using pamphlets to cover my face all the time while i was walking!it was so freaking embarrassing la!at night when i went for the dance i practically hid my face the whole time cause it was soo soo bad!):yup and my dear wonderful face took like 1 whole week just to fully heal but it's soo much nicer now and im so glad it is!hehe i dunno why i've been having lots of mixed feelings around and it feels kinda weird.am i just thinking to much or are my instincts right?arghh i watched hsm2 already and the plot is kinda slow moving but the funniest parts were when sharpay said to the drummer ' give me a beat' then she catwalked out!hahas and also the part where she and troy rehearsed the you are the music in me fast version!me and my cousins and all almost died of laughter!(:oh yeah me, my mum and sister went out on friday.went to city hall to eat at new york new york!hahas so nice(:then we sort of went shopping and all around.kept laughing non stop.bought a new top and a necklace from dorothy perkins and a pair of shoes!walked for like almost half a day and i was so tired by the end of the day!but it felt good just gg shopping once in a while.i got pictures to upload but im really lazy now so i'll most probably update in the next post!(:

♥ Loved, samantha

Blogskin COPYRIGHTED by


WINNIE
All rights reserved. ©

♥ The lady.

Your pretty face(image).
haha currently im lazy to go put a picture here so yeah(:

samantha ♥

sweet sixteen

four perseverance oh seven

band

seven november ninety one

Sites: xoxo ♥

♥ Loves.

4 perseverance ohh seven my partners! my dearest clique of five

♥ Cravings.

I want

freedom from o levels!

I want

to buy loads of things!

I want

everything.

♥ Tagboard.





♥ Affiliates.

ARIES
CHARLOTTE
CLARISSA
CLAIRE
CHLOE
ENLI
ESTELLE
ETHAN
JIAYI
KELLY
KANDACE
NAT
RENEE
SAM
YIYAN
ZHANG




♥ Archive.

♥ August 2005
♥ September 2005
♥ October 2005
♥ November 2005
♥ December 2005
♥ January 2006
♥ March 2006
♥ April 2006
♥ May 2006
♥ June 2006
♥ July 2006
♥ August 2006
♥ September 2006
♥ October 2006
♥ November 2006
♥ August 2007
♥ September 2007
♥ October 2007




♥ Credits.

1 2 3 4 5 6 7 8 9
sweet.pulchritude-



♥ Jukebox.

Imeem
Now playing Song name.
Song by Singer.