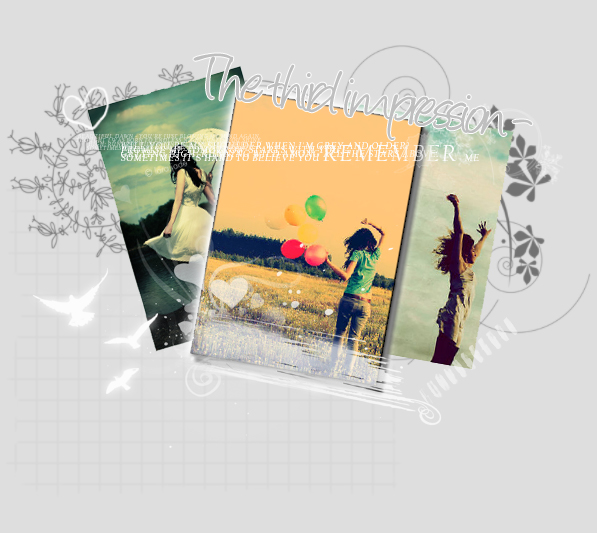 20060128 ♥
Last footprint@9:56 PM
dear diary,
im counting down the days to the end.
heys everyone.well jus wanna post before chinese new year comes!hahas im like super excited for it lor.i waited like so long jus for it to arrive!hahas and it has finally has.well jus wanna wish all those who still come and read my blog a very happy chinese new year!yippee.well jus wanna say a very happy cny to my dearest sis in idaho.well i noe you cant celebrate with us but no worries hope u still can feel the mood from singapore!we love you!hahas yup.well jus a little recap from last wk.well yeah i had a hard time crossing the wk cause too excited for new year alreadi.hahas i was practically struggling through seminary but luckily im a good gurl and i managed to not fall aslp!isnt that great?hahas well yeah then on thursday went home and like was helping my second sis copy pictures to go and print cause she had dance till like 9 in the night so yeah i was helping her then like around 6 plus somebody called home with my sister's hp.and i thot it was her la.but it tirned out to be her fren and she was like super frantic and i started to scare me then she was like telling me my sis was injured.now that was when i got realli shocked.hahas so yeah called my parents then they settled everything and my sister was sent to the hospital by the ambulance.hahas well it turned out that she had dislocated her knee joint and yeah she had to be sent to the hospital.me and my grandma rushed down to ttsh to see her and yeah my parents rushed from work.her teacher was there with all her stuff when we arrived.and yeah she was a great help to us.hahas yup then went home and then my sis came home like 11 plus with crutches and a bandaged leg with a cast.it was quite bad i should say.but yeah she's fine now and getting used to life with the bandage and crutches.lets hope that she gets well soon and enjoy her cny.but for the time being she has to live with her crutches and bandaged leg for the cny.but no worries i still tink she'll enjoy it.so pple dun get a shock when u see her with crutches.hahas but yeah she's on 10 days mc.so lucky lor.hee but yeah it was kinda sad she couldnt perform for her school's cny concert.she trained quite hard for it.but nonetheless.yeah so i shall go and wait for cny to come.ciao pple.[:
♥ Loved, samantha
20060124 ♥
Last footprint@8:17 PM
dear diary,
im counting down the days to the end.
cheryl.me(: feng.cheryl.me[:


wells havent updated as usual for a very long time.been like realli busy the whole weekend with hw and stuff..let me start with last friday.yups well stayed back for band as usual.was kinda tiring and almost killed my lips as i played too long alreadi then it was like on the verge of splitting alreadi..hahas lucky i saved it in time.well yep was intending to go invest with kelly but then michelle lai say must go for band.so we no choice go for band lor..hahas kelly was so sad she didnt get to see her cool gurl perform.but then she saw her after band when we were gg home so hahas yeah she was satisfied.hee(: wells yep then on sat when for mrs ong in the morning..i was like so squished up in one corner..almost died but nvr mind then went home was intending to go for the yw activity but then i realli had too much work alreadi like 2 essays to write??i almost died..took like 1 hr plus to do my commonwealth essay but thanks to my sister i could do it fast enough..hahas yups then went for jiang ended like 530 went home and my mum was like cleaning the house..i forgot to mention that she started cleaning since morning..cant believe it man..if ask me to clean i would probably jus die..hahas yups then went shopping for new year stuff and went for dinner..it was like raining so heavily that my whole slipper jus got wet but yeah shopped until like 10 plus then went home.was so tired fell aslp as soon as i touched the pillow.hee but yeah sunday went to church as usual hahas and my pumps were like giving me problems cause the ribbon was like coming out and i kept bothering abish to help me with it.hahas but anyways thanks abish!(:yups then had to go toilet like halfway which i was reluctant to cause the toilets are like kinda gross but i had no choice.so nvr mind went to grandma's house to eat straight after church then went to ttsh to vist gugong(dunno whether spell correctly anot)..yups stayed there until like 8 plus then went home..the weather was so hot that i was like perspiring like mad..hahas yups then monday morning kept waking up like in the wee hours of the moirning..first at like 2 plus.2nd at like 3 plus then finally i woke up at like 445.. i almost died in seminary man.i was practically like falling aslp lor..oh man and kandace was like trying to wake me up but to no avail..hahas but yeah went to school and had another long day having lessons and then band then me and rachel had to rush like mad to tuition la..we're like every wk 5 mins late..hahas but it's not so bad la..onli 5 mins.quite pro..hee yup then today another boring day in school.had afternoon higher chinese lesson yeah was quite boring..hahas now im like super tired again..and im like gonna end up falling asleep at like 11 again la..then i will die in seminary tmr again..hahas wish me luck man pple..hee so i shall join my fellow slpy mate tmr morning!hahas you'll see both of us strolling in like we're gonna die like tt but tmr my dad is driving so no worries..hee yup i cant wait for cny!it's like super exciting la..hahas i waited so long for this day to come man..hahas but there's still like so many days before it realli comes..aiyah but nvr mind..i can cross this wk fast then cny will come alreadi..hahas this is like the first cny we're celebrating without my oldest sister..hee but yeah we sent her a cny card alreadi..yup hee okays i better get ready to slp soon alreadi..ciao

♥ Loved, samantha

20060113 ♥

Last footprint@9:15 PM

dear diary,

im counting down the days to the end.

heys..well i havent blogged for like a super long time..been realli busy with like school and stuff..oh man it's like onli the 2nd wk and im like dying alreadi..like everyday i go to seminary like a dead person especially on thurs la i was like a practically a walking zombie lor.then corban jus had to call me say prayer..horrible la..arghh but nvr mind.wells school has been like super hectic with all the work and stuff..aiyah i see like my hist teacher almost everyday and she's like super boring..and i practically have so many maths lesson..but nvr mind since i like maths..hahas i jus hope i dun fail maths this year..hee(:hahas yeah well jus had band today was super tired cause was like practising for ensemble..yups hahas but yeah gg for like kedah in june..it seems quite ok la..not too bad..hahas i realli wish i can have a breather man..super tiring..hahas yeah well im like super tired alreadi so i shall not blog anymore..ciao

♥ Loved, samantha

20060103 ♥

Last footprint@6:01 PM

dear diary,

im counting down the days to the end.

hey everyone..wells i havent updated for a very long time alreadi..cause was like too lazy as usual..hahas anyway i shall update on wat happened like the past few days..hahas well i shall start with friday..wells i went for dental like super late cause i rmb the time wrongly and then couldnt see my dentist in the end..aiyah so yeah i rescheduled my timing to see her..hahas my mum and sis were like so pissed with her lor..hahas so after tt went to john little to shop for my sister's winter wear..yups then like we were looking at shoes also..was supposed to buy my new year shoe but then i couldnt find one that i liked..hahas so yeah then went to cine to meet my 2nd sis..we walked arnd more with her frens then we went to eat dinner..ate pastamania..yummy!(:hahas then went home..so tired..hee well then the next day woke up at like 12 plus lor..super late...hahas didnt have anything planned for the day so jus sit at home the whole day watching tv..super boring la..then at night i went for dinner with family b4 gg for the new year's eve countdown dance..well the dance was like okay onli la..quite boring though cause the music was too loud for me then long time listening to it got headache..so jus sat down there with dear marisa and talk to her..hahas but it was like super funny watching pple dance lor..like slow dance and fast one..i have alot things tt i saw la..but i shall not say it..certain things i saw were quite sweet also..hahas but the atmosphere there was fine..except between a few..yups hahas i noe alot alot of pple were like quite irritated cause of alot of things tt happen but yeah..hahas(: well then went home slept at arnd 3? was so tired..then on sunday woke up at like 12 cause church onli starts at 2..yeah so late la..hahas then i had a shock when i realised it was my turn to play for sacrament la..hahas i thot it was wong feng's turn but nvr mind i still did it fine i guess.hee then at night went to grandma's hse to eat but was like super late for fireside la..by the time me and my sis rush there it ended alreadi la..hahas but nvr mind..then talked awhile with aiwen and jesslyn..hahas they are like super funny la..hee then monday went with family go collect my specs..ran all the way to katong to get it..hahas then went to marina square to get my sis's thermal wear yups then went to lido to get my stupid new ugly pe shirt..it sucks big time la..i dun wanna wear it lor..hahas im like finally sec 3 lor..hahas i feel so old..argh..hahas like upper sec alreadi..soon i'll be taking my O's man..hahas i dread it..but then later will go jc..aiyah anyway then it was so crowded at the shop lor..almost died..hahas then went with uncle lam and my family to eat xu liu shan..it's sum mango dessert thingy from hong kong super nice la.should go and try..hahas then i had to go tuition so my dad dropped my family at mellben seafood place b4 sending me to tuition..then ended at like 8 b4 gg home..aiyah then go home eat dinner then it was getting ready for school!!!arghh..i couldnt sleep last night la..but yeah woke up at like 445 this morning i was so tired..didnt want to get out of bed lor..eeyer.haha then went for seminary and then to school..hahas school was ok..my teachers are quite ok la..not so bad..hee then we had like orientation for the sec 1s..we performed for them..let's hope more pple join band this year..hahas yup now im like super tired but im gonna cheng until at night then sleep..well i gtg now ciao(:

♥ Loved, samantha

Blogskin COPYRIGHTED by


WINNIE
All rights reserved. ©

♥ The lady.

Your pretty face(image).
haha currently im lazy to go put a picture here so yeah(:

samantha ♥

sweet sixteen

four perseverance oh seven

band

seven november ninety one

Sites: xoxo ♥

♥ Loves.

4 perseverance ohh seven my partners! my dearest clique of five

♥ Cravings.

I want

freedom from o levels!

I want

to buy loads of things!

I want

everything.

♥ Tagboard.





♥ Affiliates.

ARIES
CHARLOTTE
CLARISSA
CLAIRE
CHLOE
ENLI
ESTELLE
ETHAN
JIAYI
KELLY
KANDACE
NAT
RENEE
SAM
YIYAN
ZHANG




♥ Archive.

♥ August 2005
♥ September 2005
♥ October 2005
♥ November 2005
♥ December 2005
♥ January 2006
♥ March 2006
♥ April 2006
♥ May 2006
♥ June 2006
♥ July 2006
♥ August 2006
♥ September 2006
♥ October 2006
♥ November 2006
♥ August 2007
♥ September 2007
♥ October 2007




♥ Credits.

1 2 3 4 5 6 7 8 9
sweet.pulchritude-



♥ Jukebox.

Imeem
Now playing Song name.
Song by Singer.