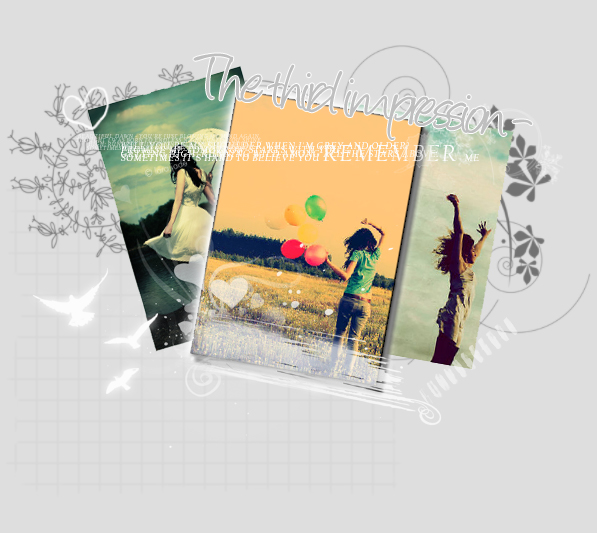 20051222 ♥
Last footprint@9:39 PM
dear diary,
im counting down the days to the end.
heys..hahas well jus came home from a long day of activities man..hee well woke up this morning at like 9 plus to get ready..was gg out with my aunties and cousins to cine's kbox to sing!hahas it was like super funny lor..like everyone was singing crazily..we even sang weird songs la..we practically were high..hahas but i loved it though..very long nvr go k alreadi..hee or should i say i havent stepped into orchard for a like super long time alreadi..hahas but yeah after kbox we went like shopping round orchard..hahas it was like raining abit but yeah we still decided to walk..hahas we walked to takashimaya to go kino cause jun wanted to go there..hahas yeah well i was scared tt i fall down cause i not too sure whether my slipper have support or watever thingy..hahas so i

held onto jun and walked..hee we were like talking and yeah hahas met jesslyn on the way..hahas i got a shock man..seeing her there..hahas yeah so went kino then saw maia there..hahas she was like so open..like not scared pple see her..hahas yeah so walked arnd taka..ate food yeah hahas then decided to go far east..went there and walked like practically the whole of level one la..hahas but yeah i wanna buy pumps! hahas tink im gonna buy tmr..hahas and i still hafta buy christmas presents and my pixie's present..hahas im gonna go like super broke la hee but nvr mind it's once in a year so yeah..hee i dunno who to buy for leh..hahas yeah anyway i hope i can wake up tmr..got sum section conference in the morning..hahas yeah so gg to slp now..ciao
♥ Loved, samantha
20051219 ♥
Last footprint@11:49 AM
dear diary,
im counting down the days to the end.
heys..hahas i jus reached back in singapore like on sat night..hahas was realli tired cause me and my sis had to carry like 3 luggages back home..my parents were like not with us cause the flight was full and they couldnt get on the flight so yeah we came back without them first..hahas..yeah so let me describe everything tt happened in korea..hahas we arrived there like one day earlier cause the nest day's flight was full so yeah..we were supposed to join the tour yeah so..hahas so we reached seoul's incheon airport..and we had to take like 1 hour to get to the hotel we were staying in la..hahas but the hotel was super nice so it was worth it..hahas stayed in marriotts..hee yups so we were like so tired cause took the midnight flight there so we like slept for awhile b4 gg out to shop and have lunch..hee so yeah we went round shopping and shopping..hahas the things there are not say very cheap so couldnt buy much..hahas but yeah..communication there is like so difficult la..we cant read and speak korean then they couldnt speak and understand english so it was like so difficult to communicate la..hahas so funny..yep oh ya the weather there was also quite ok for the first day tt we went but as days went pass it got like colder la..hahas:) yup next day we met the tour pple at gimpo airport..we were due to go jeju island for part of the itinery..hahas but at tt time korean air was like having a strike so abit difficult to get on board but still we managed to..hahas yup reached there then we went like sightseeing arnd..there was this super cool road which like when u switched off the car engine..instead of moving backwards down the slope..it would move up!man was i surprised..hahas but yeah it was realli and insight for me man..hahas..jeju island there was not realli cold as for the temp but the worse was when the wind came man..i almost died ok..and trust me it was realli cold i wore like a super thick jacket and it didnt work lor..hahas but still yeah and the best part was when we went back to the hotel we had this spa treatment thingy..oh man it was so good lor..there's like so many things which would help you relax la..hahas so cool..and the funny thing is tt we had to go to the last place which was like a sauna and it was located outside the hotel..and it was snowing..can u imagine pple wearing swimsuits and a bathrobe running out in the snow to the dome?!hahas it was hilarious...but i love the snow man.it was so pretty..then the next day we left jeju for seoul..hee we did many things in seoul man..hahas but i got realli sick of bibimbab(if tt's how u spell it)cause there was this particular day when we ate it twice for lunch and dinner la..i almost puked lor..argh..hahas but i love the place where we went to ski which is pheonix park!ahh hahas the snow was so pretty but the thing is tt the temp was super low and i was as usual dying...hahahas the temp was like -17 degrees la..and sumore there was wind lor..hahas but yeah i was so bad in skiing tt i hit this lady and she fell and hit here head..hahas i was so guilty la..felt so bad lor..she's not say very young lor..hahas but yeah..my family loved the skiing man..hahas like at night cause i was too exhausted and cold and numb and too scared to ski again so i didnt go with them to ski again..hahahas everything was actually fun la..hahas but yeah hee there's too many things to rmb abt the trip alreadi so i cant actually write everything out here..hahas but yeah i shall post sum pics from the trip here..yep..ciao:)

♥ Loved, samantha

20051207 ♥

Last footprint@10:19 AM

dear diary,

im counting down the days to the end.

heys everyone..decided to come and post again since i have nothing to do..wells let me post abt last wk..well had band camp frm 30th to the 2nd..well it was quite fun although i didnt like play any of the games cause im not supposed to..hahas but i didnt do drills also..but i played charades(i tink tt's how to spell it)hahas cause i was forced by michelle but still i wanna thank her cause i had fun!hahas:)yeah wells we slept in the tamarind rm..and it was like quite alot of pple squeezing into one small tiny rm..hahas everyone was like trying their best to squeeze into the spaces available la..hahas but we had lots of fun bonding tgt!hee i love the treasure hunt!hee red grp we rock!although we went back to school late.we had lots of fun tgt as a grp!everyone had like so much fun tgt and with everyone spurring each other on to finish the hunt..i realli felt the excitement!hee:)well but our grp had the most casualties i should say like pple falling sick arh..most of us having muscle cramps everywhere..hahas anyway overall the band camp was fun..then this wk went to chinatown with mum,dad and charjie..hee we were there like to find clothing for chinese new yr..hahas yeah we went to like so many shops la..hahas finally we bought cheongsam frm the last shop tt we went to..hee so all my clothings are settled..onli need shoes to go with it!hahahs:)then saturday we had like ward christmas party!hahas it was kinda boring but playing with the babies was so fun!hahas they were like so sweet and cute jus playing arnd and eating!hahas we took like loads of pics man..hee overall it was jus ok..not too bad yeah then sunday went for beh po's 100th day thingy..so didnt go to church..stayed there until like 6 plus before gg home..hahas then watched hong xing da jiang..oh man they all like look so pretty for the girls and the guys ok la..hahas and me and amanda were like sms-ing each other abt the show la..hahas yeah man..weijian and weichoong were there!hee me and amanda were like telling each other la..hahas yeah..mon went for sectionals in the afternoon..had quite alot of fun cause we combined with the saxes to play and all.then i jus clapped for them cause i didnt wan to play so yi yan played instead!hahas..then helped rachel with her horn..i polished the slide until damn nice la.hahas then left to go far east..rachel wanted to buy clips..then i was like gonna be late alreadi..so cabbed there with rachel..reached there and i was so embarrassed cause i went up the

wrong lift and press the wrong house doorbell...can u believe it?hahas i was alreadi like super late alreadi la..hahas but today i wun make the same mistake alreadi..i wld be early!hahas yeah then on tuesday supposed to go for brass sectionals but cause woke up with a bad headache so didnt go in the end..hahas..so today im gonna go for piano soon so i better get ready..ciao:)

♥ Loved, samantha

Blogskin COPYRIGHTED by


WINNIE
All rights reserved. ©

♥ The lady.

Your pretty face(image).
haha currently im lazy to go put a picture here so yeah(:

samantha ♥

sweet sixteen

four perseverance oh seven

band

seven november ninety one

Sites: xoxo ♥

♥ Loves.

4 perseverance ohh seven my partners! my dearest clique of five

♥ Cravings.

I want

freedom from o levels!

I want

to buy loads of things!

I want

everything.

♥ Tagboard.





♥ Affiliates.

ARIES
CHARLOTTE
CLARISSA
CLAIRE
CHLOE
ENLI
ESTELLE
ETHAN
JIAYI
KELLY
KANDACE
NAT
RENEE
SAM
YIYAN
ZHANG




♥ Archive.

♥ August 2005
♥ September 2005
♥ October 2005
♥ November 2005
♥ December 2005
♥ January 2006
♥ March 2006
♥ April 2006
♥ May 2006
♥ June 2006
♥ July 2006
♥ August 2006
♥ September 2006
♥ October 2006
♥ November 2006
♥ August 2007
♥ September 2007
♥ October 2007




♥ Credits.

1 2 3 4 5 6 7 8 9
sweet.pulchritude-



♥ Jukebox.

Imeem
Now playing Song name.
Song by Singer.